Our professional cabinet makers will bring your custom home office designs to life.
Are you tired of dysfunctional space? Are you embarrassed by your messy home on video calls?
Working from home doesn't have to feel like it. It should have everything you need, where you need it.
Your home office workspace should almost feel intuitive, designed for the way you think.
With custom cabinets and home office design, you can have a dedicated workspace that inspires productivity and looks great, even on video conferencing calls.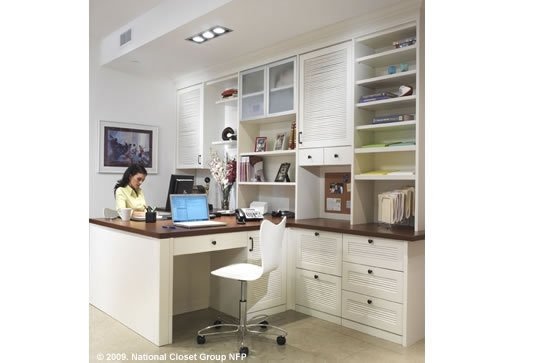 Everyone at Glenn Robertson Design proved to be expert at their tasks and as a result, we have the office of our dreams.
Bookshelves
Practical and decorative, bookshelves offer open display space for more than just books. Custom-designed to your style, open shelf cabinetry takes advantage of vertical space from any wall.
Upper cabinets
Not only do upper cabinets provide more storage and display space, they also provide the perfect place for undermount lighting for your work surface. Whether you're adding glass or wire inserts, open shelves or solid wood doors, built-in uppers are a practical and beautiful storage solution.
Lower cabinets
As long as there is paper, there is a need to store it…somewhere. Custom-sized drawers provide excellent file space for all your paper work and office supplies. With both drawers with doors you have ample storage to keep work stuff tidy and out of the way when you don't need it.
Counter space
Your work surface has to be the right combination of material, height and size to handle everything you can throw on it. With customization, you get to choose exactly what you want to work on.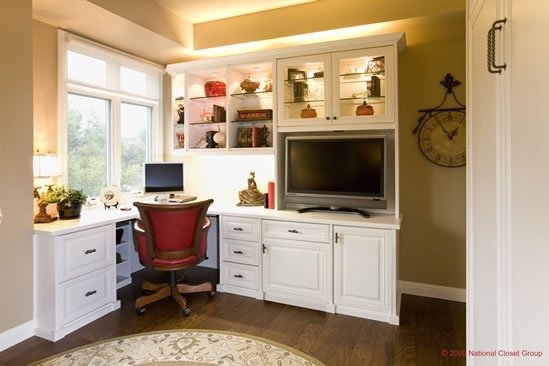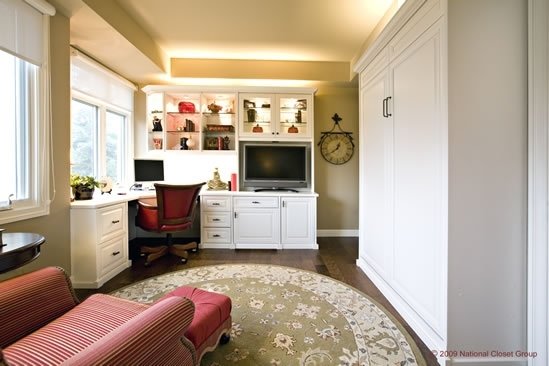 Testimonial
"Glenn Robertson and Designer Afsaneh were really good at making suggestions on how to use maximize space. Besides that, the worker that installed everything was quite respectful and professional.
I was very satisfied with the results.
I thank you for making my life easy."
Regards,
Maria Z. Talan
Workstation
Custom desk solutions
Sometimes you want your workstation to work better, just for you. Maybe it needs to be a little wider, and not as deep as a standard desk. How about a slide-away keyboard tray and opening desktop for your laptop? We get it, we want to make it easier for you to get your work done.
Wall Units
Do you need additional bookshelves or wall units? Learn more about our Custom Wall Units
Wall Beds
Transform a home office or den into a spare bedroom in under a minute with a beautiful murphy bed unit that tucks away when not in use.
Learn more about our Custom Wall Beds.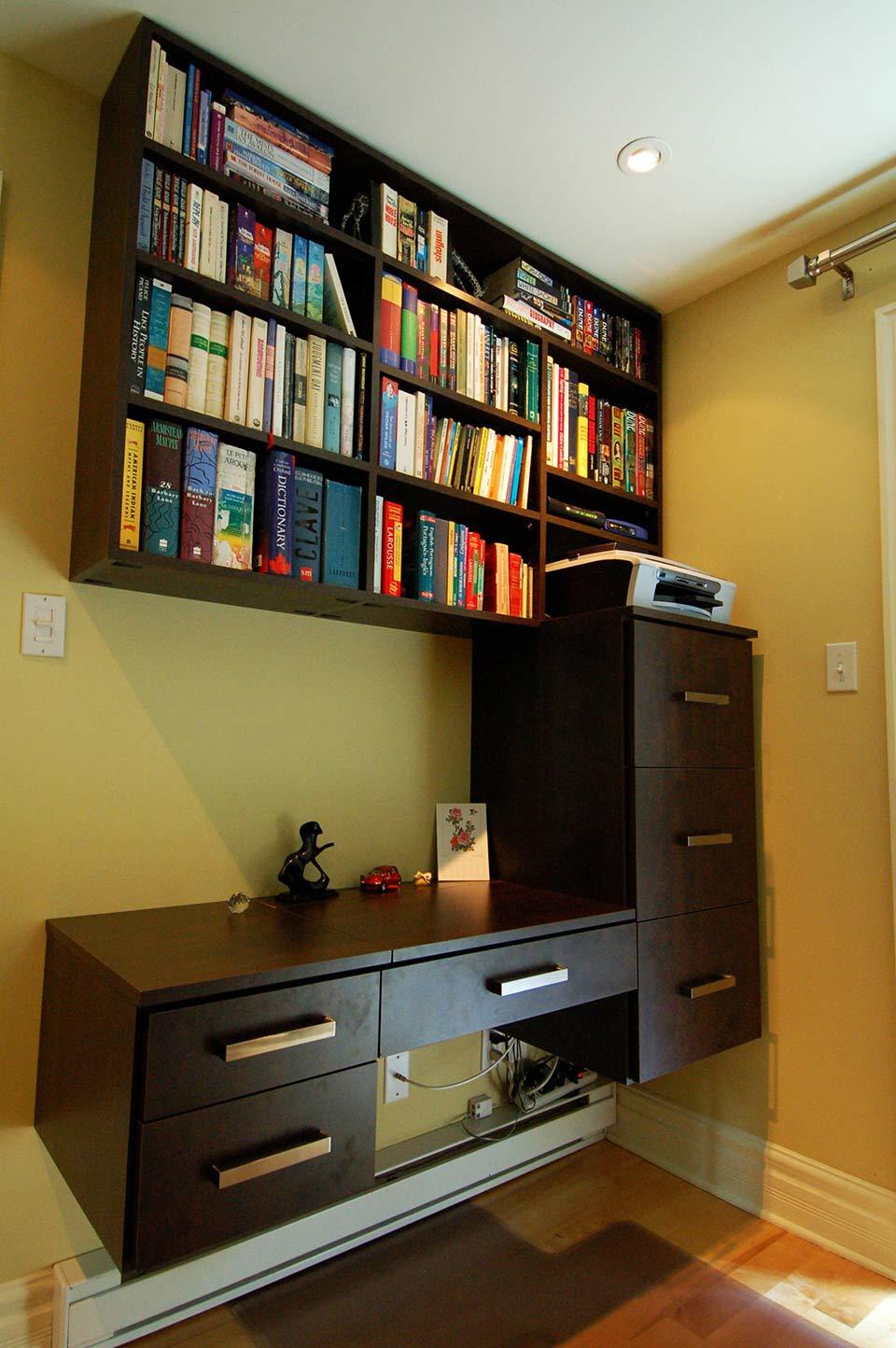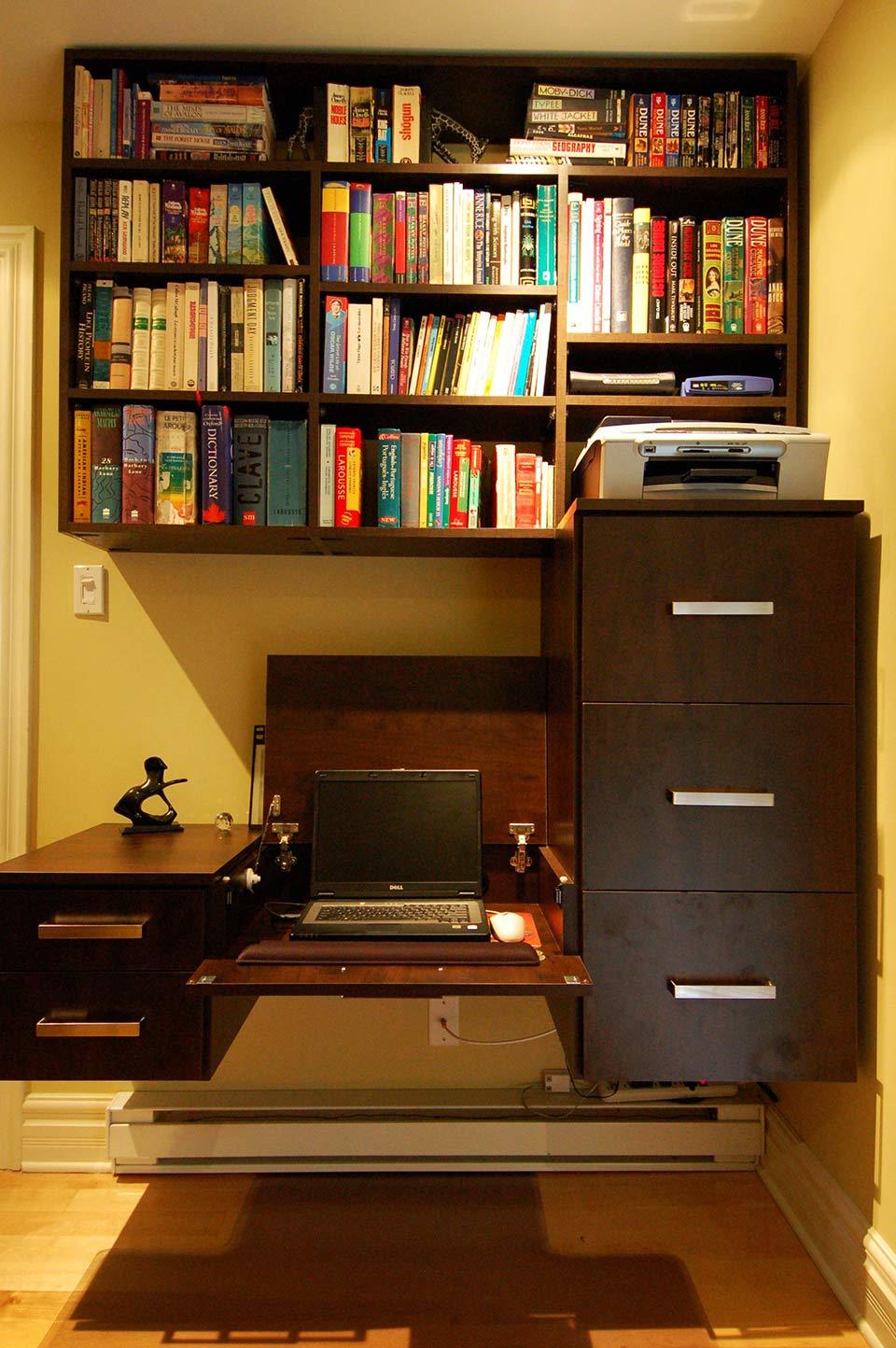 Testimonial
"The Glenn Robertson team never disappoints. My fifth project in 20 years.
Designed efficiently to perfection, great, clean install – and my last project was in December. Beautiful finish. Highly recommend."
-V. Seni
Shared Workspaces
The new reality is that many of us are now working or studying from home – at least part of the time.
Whether it's for an Individual or for shared workspaces, you can still balance productivity and style.
Open and closed display areas, finishes, lighting, and hardware create an efficient and enjoyable work area, customized to a specific skill or profession.
Bring harmony to your room by adding both organization and comfort.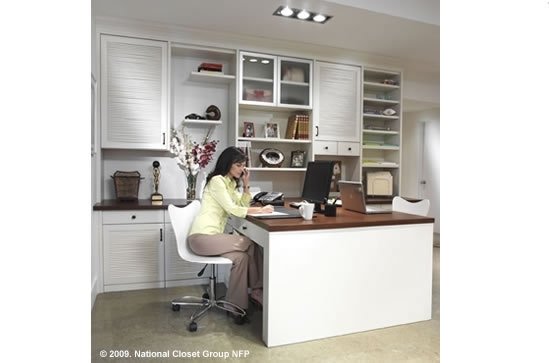 More than just custom cabinets
Finishes
Our designers will help you choose the right finishes – dark or light, smooth or textured – to accent your décor and refine your style.
Accessories
We offer a wide range of custom organization solutions to help you get the most out of your home office space. [bold, italic] Organize your home, organize your office, organize your life.
Your Own Custom Home Office is as easy as 1-2-3!
Step 1. Contact us to schedule your personal appointment
Step 2. Review your custom home office needs with our talented designers
Step 3. Our professionals bring your designs to life
What are you waiting for? Get started now.
Design
Your new custom home office starts with consulting our professional designers. We work with you to understand your vision and bring designs to life.
Professional Custom Cabinet Crafting
Our master craftsmen manufacture your cabinets, right here at our facilities in Quebec
Installation and Support
We pride ourselves on white glove treatment during the installation and VIP support afterwards
What are you waiting for? Get started now.