Get rid of the air mattresses and uncomfortable sofa beds.
Our professional cabinet makers will bring your custom wall bed designs to life.
Are you tired of having to inflate air mattresses when a visitor comes? Or trying to figure out where to put that old sofabed in your new flex room?
Now you can enjoy two rooms in the space of one with a sleek, multi-functional wall bed. Whether a home, apartment, or condominium, a genuine Murphy bed or wall bed is the perfect way to add more usable living space without compromising comfort, quality or design.
Ideal for Home offices, Dens, TV Rooms, Family Rooms, Loft spaces, Guest Rooms, and Studio apartments. We will custom build your wall bed to fit your space.
Available in Single, Full, Queen, King, and California King sizes – whatever you need, we can build it for you.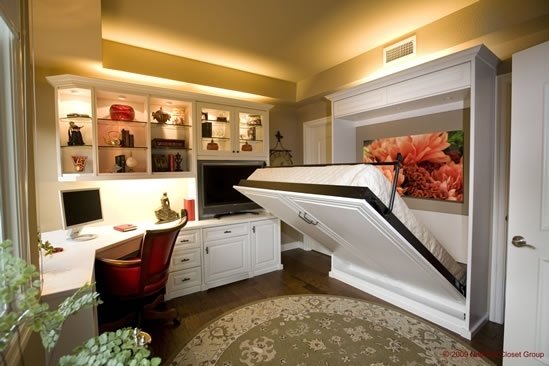 Create a Flex Room
Wall beds and Murphy Beds help to create a space that serves a wide range of functional uses, all while creating a streamlined design that caters to your every need. Together we transform your room into the space-saving solution you've been looking for. We can include a drop-down desk, an entertainment center, storage cabinets, a wardrobe closet, and more. With a multitude of features available, we strive to enhance functionality and maximize every square inch.
Murphy Wall Bed Design
Paragraph: Once we have addressed the functionality you want in your flex space with your Murphy wall bed, we focus on the style and finishes that add the final design touches to your wall bed's organization system. You will work collaboratively with your designer to create a wall bed that complements your décor tastes. Whether you decide it's best to stick to the architectural style of your home, or want to add variance with a complimentary design style, our vast selection of finishes, woods, and accents ensure a design that's unique to you.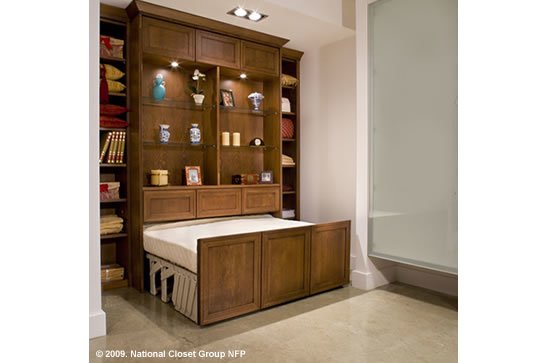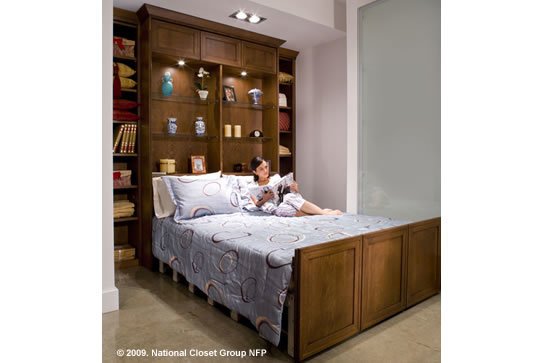 Testimonial
"We have successfully used Glenn Robertson Design for multiple projects in our new home over the past 5 years. These included several clothes closet organizations, one kitchen pantry make over and 3 decorative cabinet/wall units… two in our formal dining room and one for the family room.
"These wall units are highly decorative and have become a focal point in both rooms. We receive many compliments on these units."

"I would recommend Glenn Robertson Design to any homeowner who demands perfection in their home décor."
Rich & Barb
Wall Beds Customized For You
Features
A custom wall bed creates a multipurpose room to accommodate guests without interrupting the everyday functionality of your office space.
A full range of bed sizes accommodates a variety of needs. Single, Full, Queen, King, or California King
Options for fold-down, side-tilt, or roll-out to optimize limited space.
Hydraulic lifts and push-to-open door and drawer hardware make opening and closing easy for anyone
Side tables can be accommodated as pull-out drawers to act as a nightstand.
Storage cabinets around the bed store pillows, blankets, and sheets.
Decorative molding and trim options give this unit the look of built-in furniture, seamlessly integrating it into any space.
Lighting options such as LED, headboard, flexi-light, and strip lighting with multiple switching choices increase accessibility.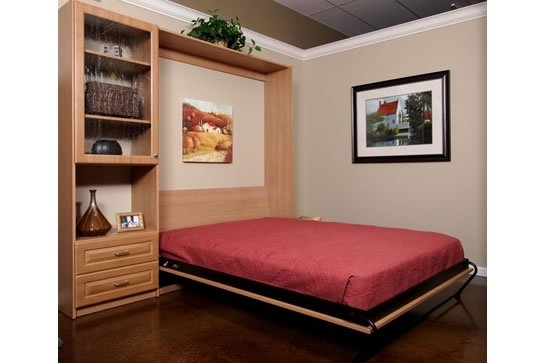 "Without any hesitation, I recommend this company because not only they did a fantastic job, but also their prices were very reasonable. This wall-bed has saved me a lot of room and it is so easy to open and close. The wood color and fine job is really admirable. I cannot say enough about the job well done."
Afarine Belgari
Wall Units
Do you need additional bookshelves or wall units?
Learn more about our Custom Wall Units.
Home Office
Transform your workspace into a custom home office that helps you to be productive and looks great on camera.
Learn more about our Custom Home Offices.
Testimonial
"We are long time clients (10 years) and we really appreciate as end users the product quality and the service level. We did another job after 10 years and the project is perfect.
The first project we did 10 years ago is the only one we did when we purchased our apartment that doesn't need any improvement, fixing or service.
Thank you again for the oustanding work,"
Adrian and Dana
Flexible Spaces
You can still balance productivity and style in your flexible spaces.
Open and closed display areas, finishes, lighting, and hardware create an efficient and enjoyable flexible space, customized for you.
Bring harmony to your room by adding both organization and comfort.
More than just custom cabinets
Finishes
Our designers will help you choose the right finishes – dark or light, smooth or textured – to accent your décor and refine your style.
Accessories
We offer a wide range of custom organization solutions to help you get the most out of your home office space. [bold, italic] Organize your home, organize your office, organize your life.
Your Own Custom Wall Bed is as easy as 1-2-3!
Step 1. Contact us to schedule your personal appointment
Step 2. Review your custom wall bed needs with our talented designers
Step 3. Our professionals bring your designs to life
What are you waiting for? Get started now.
Design
Your new custom wall bed starts with consulting our professional designers. We work with you to understand your vision and bring designs to life.
Professional Custom Cabinet Crafting
Our master craftsmen manufacture your cabinets, right here at our facilities in Quebec
Installation and Support
We pride ourselves on white glove treatment during the installation and VIP support afterwards
What are you waiting for? Get started now.